---
---
8 Ways To Combine Email Marketing And SEO
---
Combine Email Marketing And SEO Efforts To Boost Your Results
Email marketing and SEO are two powerful tools that you can combine to get even better results. In fact, you may be surprised to know that you can use several proven strategies to combine these two marketing channels to increase your conversion rate.
Email marketing and search engine optimization are both essential to growing a strong brand online.
If you get smart about combining email with search engine optimization strategies, you'll increase the effectiveness of your overall marketing campaign.

1. Discover the intent behind the query
Many marketers assume that the only way to get visitors to their website is to promote their products and services. However, if you really want your site to generate sales, you need to understand the intent behind the queries.

For example, it's not difficult to develop a survey that will help you learn more about your audience.
Ask users why they visited your site and what are their desires, challenges, worries, etc., related to the topic.
Use the survey results to create a newsletter that will help your audience.

Use email marketing and SEO techniques to make your article more visible in search engines. If you do this, you can expect to see a significant improvement in your readership within a matter of weeks.

2. Lower bounce rates
The problem with email marketing is that many people don't want to read emails. They don't want to hear from you unless you have something good to say in your newsletters. In addition, many people don't want to give out their email addresses to marketers. So, what if we told you there was a way to lower bounce rates? There is, and it's simple.
As a marketer, you want to attract new customers to your web pages, and this can be done by using specific social media sites. However, if your site has a high bounce rate, you will not be able to attract more potential subscribers to your platform.
In fact, it can even make your website look unprofessional and unattractive.
With email marketing, you can get high-quality targeted traffic to your website.
It can be a great way to generate more leads, build brand awareness, and increase sales when done correctly.
Use high-quality, unique content and a clear call to action (CTA) to convince visitors to become subscribers.

Make sure to use relevant and engaging content. Use images in your posts; this will give a better visual appeal to your readers.
When you are writing blog posts, keep in mind that your readers are most interested in your keywords and how they can benefit them. It is very easy to get caught up in the details of your post and forget about what your reader wants to know.
As highly qualified visitors, they will like the content of your posts. This reduces their chances of bouncing away from your website, hence decreasing your bounce rate.

3. Use automated sequences to generate traffic
One of the most common mistakes that people make when starting an online business is not making enough use of automated traffic.
If you are not using email to get new subscribers, you miss out on a huge opportunity. A simple, well-designed automated sequence can do wonders for your business. When you automate things, you don't need to spend so much time on marketing.
Most email marketing platforms allow you to build an automated sequence in their dashboard. Simply start by creating the sequence, and then you get the emails sent automatically.

It saves you time
You can get a lot done in less time with automated sequences. You don't have to sit down and write an email every time you want to send one out. All you have to do is click a few buttons to get started.
It can save you money.
Automated sequences are very cost-effective. They will help you save money on your business. If you want to spend a significant amount of money to get a couple of thousand subscribers, you will be able to do it in about half the time with automated sequences.
It helps you keep track of what is happening with your campaigns.
With automated sequences, you can quickly see how many people are opening and clicking on your emails.
With this data, you can start to see which ones are more effective and improve your messages. This is important because it gives you a better understanding of what works and what doesn't.
Other benefits include easy setup and configuration of your emails, more personalized content based on segmentation, timely campaigns, etc.
4. Deliver personalized content
You can deliver customized content in several ways. These include newsletters, SMS, push notifications, chatbots, and even voice messages.
People like to receive customized information because they feel like they receive something tailored just for them.
People like to interact with people who are similar to them.
Personalized content is more likely to be relevant to people. This means they are more likely to respond to it. In addition, personalized content is more likely to be liked.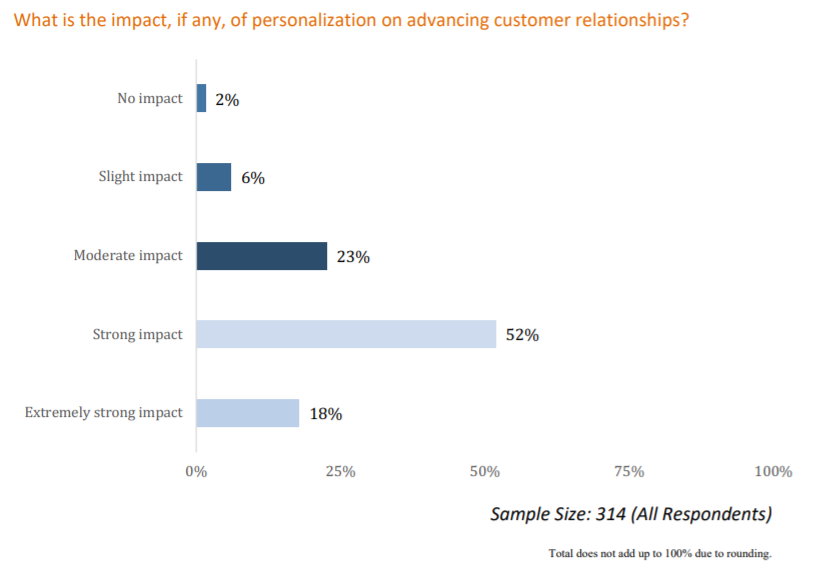 According to a recent Evergage Study, 9 out of 10 marketers deploy personalization to improve customer experiences.
5. Develop Multi-Purpose Newsletter Content
You probably use newsletters to promote the latest blog posts, the newest products on your site, and your promotions to create appealing offers and bring more sales.
The most common format of this is the subscription form on your site.
But why should I subscribe to the updates when I can visit the website and view the new content whenever I want to?
Great question. The truth is that you should present the subscription form as a source of benefits the user can have.
You'll make a better point if you create exclusive content that you can only share with your email subscribers.
Write your article as if you were talking to your audience. Ensure that it is informative and that you enclose all the information that visitors want to know.
Doing this will encourage people to sign up for your email list. At the same time, it'll make your subscribers feel that you care for them.
One of the best ways to do this is by offering valuable and unique content, such as infographics, research reports, eBooks, and more.
When writing the content, use your target keywords but always under the guidance of SEO principles.
You can include some of this content on your web pages after sending it out to your email subscribers as an exclusive offer. If you indicate that the full content is more detailed, give your potential subscriber a chance to get it. If you feature the article on your site, you will improve your SEO.

6. Have Links in the SEO Emails
If you want to ensure that your combination of email marketing and SEO emails is successful, you need to include links.
The idea behind links is to help visitors move around your site, and the best way to do this is by getting them to click. In other words, you should use links as a form of content marketing.
Use keywords in your link lines. Don't just tell your subscribers about your product or service, but also give them some reasons why they should buy it.
Thanks to links in your email messages, you can increase your email subscribers.
Google will love you if you create compelling content that gives visitors exactly what they are looking for. That's how your newsletters serve as part of the email marketing and SEO strategy.

7. Ask Your Subscribers for Reviews
Reviews are one of the most direct connections between search engine optimization and your email marketing efforts.
This is especially important for local businesses as reviews are among the most important ranking factors in local SEO.
The concept of "social proof" is one of the oldest tricks, but it's still very effective. It simply means that you should encourage your audience to share your content or product with their friends and family in the form of a review.
There are many different ways to do this, including asking for reviews on third-party review sites like Yelp, offering incentives to write reviews, or even using a review form that lets your customers leave a review directly on your web page.
In the long run, these reviews can help you rank higher in searches.
8. Encourage Your Readers to Share Your Content
There are many ways to get more traffic to your website resulting in improving your ranking, but one of the most effective methods is through the use of social media.
By harnessing the power of social media, you can create a community of people you can interact and build relationships with.
The fact that media popularity influences SEO doesn't mean that people should be posting their content on social media just for the sake of it.
Does social media popularity influence SEO? Social media does not directly contribute to SEO ranking, but the links you share across social platforms increase your brand exposure.
It's important to understand that your social media posts and interactions won't magically help your website rank higher in the search engine results pages (SERPs).
In fact, you could be doing more harm than good by posting content on social media. But, there are some things you can do to ensure that your social media presence will help your website rank better:
Focus on your brand
Your social media content should revolve around your brand. That means that you should create a campaign that promotes your brand or business.
Think of what your brand stands for and what you want it to represent online. It's not enough to simply post about your products or services; you also need to create content that promotes your brand.
Create content that resonates with your audience
When people view your social media content, they should feel as if they've found a piece of your brand. If your content doesn't resonate with your audience, then no one will be interested in sharing it on social media.
Post regularly
Posting content on social media doesn't happen overnight. You need to create consistently compelling, engaging, and useful content. If you have a consistent posting pattern, you will build up your audience over time.
Be authentic
People want to connect with businesses that are genuine and open to interacting with them. This means that you need to be real with your social media followers.

Conclusion
While email marketing doesn't directly influence SEO, you can use it to your advantage to drive traffic to your pages.
There are many strategies for using email marketing to improve SEO, including using keywords in the subject line, sending a digest email regarding an update on your blog, and making sure you use social media sharing buttons on your email.
It's also a great idea to ask your subscribers for reviews, as more reviews can help with your local SEO. Delivering a personalized newsletters campaign and using CTAs can also improve your social media engagement.

FAQs
Q: How can combining email marketing and SEO can help improve my email marketing and SEO campaigns efforts?
A: It's common to believe that one does not work without the other. In fact, email marketing and SEO are closely related and are both essential parts of any successful marketing strategy.
Email marketing is an effective way to attract new customers, while search engine optimization helps to improve your website's rankings in search results. Some basic principles indeed apply to both email marketing and SEO.
Q: What is the best practice to use CTA?
A: In order to have a successful CTA, it is important to understand what it is. The CTA is a call-to-action (CTA) button or link that is used to guide website visitors to take action on your website. It should be visible and well placed but not distracting.
It's most commonly used as a button, which is placed at the end of a web page or email to encourage visitors to take action.
Q: How to improve the effectiveness of my email campaigns using SEO principles?
A: Make sure you provide your readers with the information they need and want. If they can't find it, they won't read it.
Q: How can I increase my social media engagement using SEO-optimized emails?
A: Use your social media content and links to your email in a variety of ways.
You can include links to your social profiles as the main body text in your emails, or you can link out from the email to one of your social media pages. Either way, the goal is to help customers click through to your social media sites to learn more about your business and potentially share your content.